Gratis SSL certificaat
Via TotallyHosted is het mogelijk om een gratis SSL-certificaat te krijgen voor elke website die u bij ons host. Hiervoor wordt gebruik gemaakt van Let's Encrypt.

Er zijn wel wat verschillen ten opzichte van betaalde SSL certificaten:

Er zijn geen versies met bedrijfsgegevens/bedrijfsnaam beschikbaar
Er zit geen garantie op
Er bestaan geen wildcard versies van het gratis certificaat
Het certificaat is slechts 3 maanden geldig (maar wordt door ons controlpanel automatisch en tijdig verlengd).
De beveiliging is echter gelijk aan die van betaalde certificaten. Het is dus een uitstekend manier om mee te starten!
Om  het certificaat aan te vragen, logt u in op de Plesk-server waar uw domeinen op staan.
Ga naar het domein waar u het certificaat voor wenst aan te vragen, en klik op de "
SSL/TLS Certificates
" knop: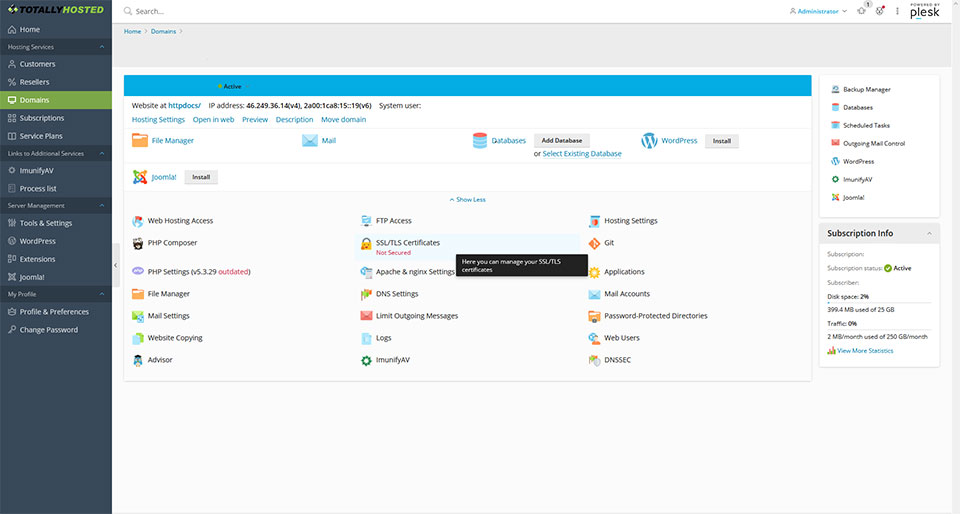 Klik op "Get it free" om door te gaan met de aanvraag: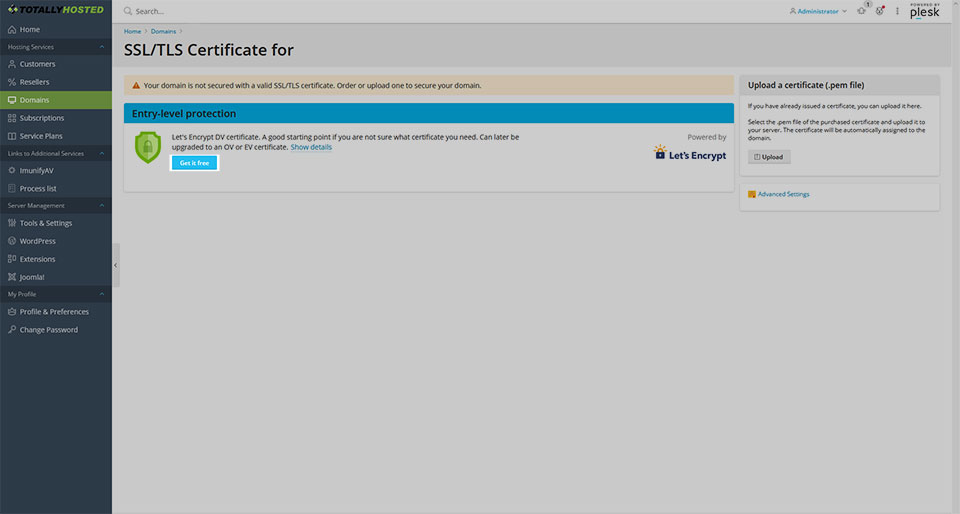 Uw e-mailadres staat als het goed is reeds vooringevuld. Zorg dat hier een werkend e-mailadres in staat; bij problemen met de aanvraag wordt u via dit e-mailadres op de hoogte gesteld.
Vink de optie 
Include a "www" subdomain for the domain and each selected alias
aan.
Vink eventueel de optie
Secure webmail on this domain
aan, om de webmail ook via een beveiligde verbinding te laten verlopen.
Vink eventueel ook de optie
Assign the certificate to mail domain
aan, om het certificaat te koppelen aan IMAP, POP en SMTP.
Indien u aliases voor uw domein gebruikt kunt u daarvoor ook een certificaat aanvragen door ze aan te vinken.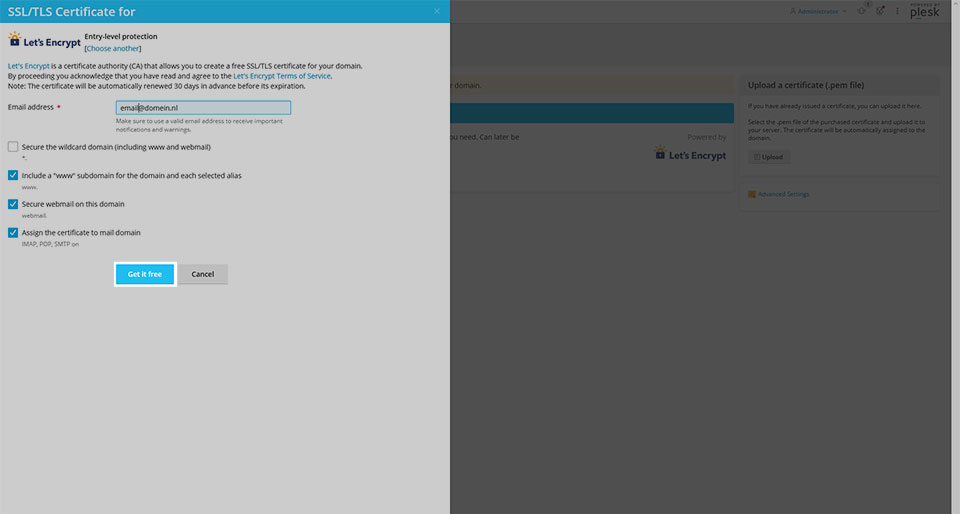 Klik op "Get it free" om de aanvraag uit te voeren. U ziet na enkele seconden of de aanvraag gelukt is.
Let op, dat na het aanvragen het certificaat niet gelijk actief staat. De webserver moet daarvoor herstart worden. Dit gebeurt circa elke 3 uur; indien u daar niet op wenst te wachten kunt u natuurlijk altijd even contact met ons opnemen per e-mail of supportchat!
Veel plezier met uw gratis SSL certificaat!
Wilt u liever een versie met groene balk of bedrijfsgegevens, bestel deze dan via de
SSL certificaten
pagina!